Reminder and Update in Formatting for the next regularly scheduled Board of Education Meeting

Please review the latest update on Hyde County Schools and the COVID-19 Pandemic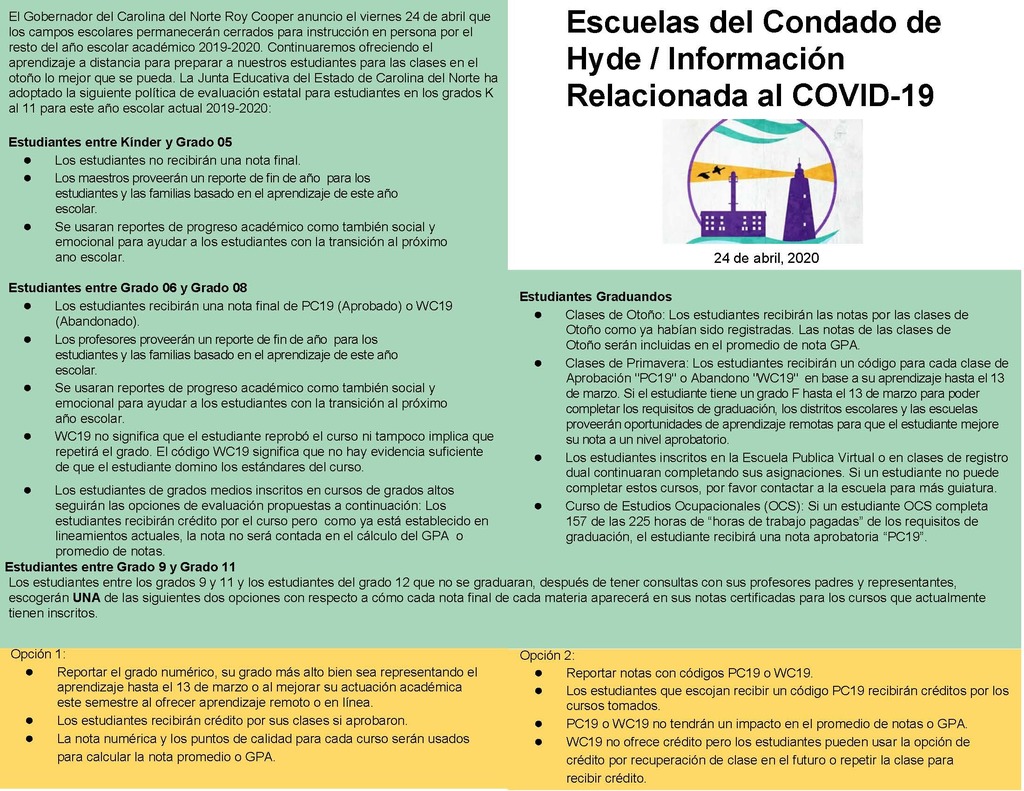 Update for Parents on COVID -19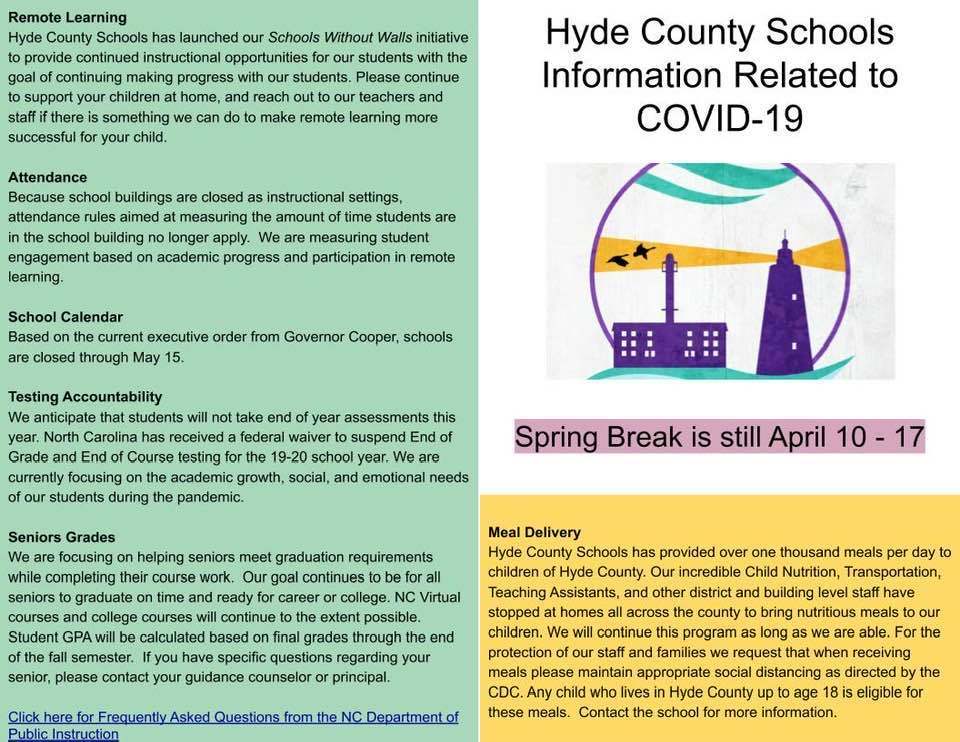 ATTENTION: In adherence to the current COVID-19 recommendations, the April Regular Meeting of the Hyde County Board of Education on April 7 at 5:00 pm, will be held virtually. If anyone would like to participate in the Public Comment segment, they are welcome to submit their questions to Superintendent Basnight at
sbasnight@hyde.k12.nc.us
to be read aloud to the Board members in the virtual meeting room.

For your information, up to the end of March, this is the data for our meals program: Total meals served on Mainland 9,830 Total meals served on Ocracoke 766 For a total count of 10,596 Daily average meals delivered: 963 Meal counts have exceed 1000/day since 3/26 This is outstanding! Please take a moment to thank the nutrition staff, bus drivers, Teacher Assistants , Transportation Director Tammy Sadler, Volunteers, when you see them. Doing what's best for students!

Parents and students, it has come to our attention that there are postings in social media falsely claiming our NC Governor has made a statement that all students in our K-12 Public Schools will repeat the current grade for next school year. This is false information, so please disregard. Thank you.


Hello Hyde County School's students, staff, and parents. I am so excited to tell everyone about our Breakfast and Lunch meal program in all Hyde County Schools. Governor Roy Cooper has charged school districts with feeding children between the ages of 0-18 years old while schools are closed. As some of you may know, we have students in Hyde County who attend schools other than Hyde County Public Schools. Hyde County Schools is committed to feeding all children, regardless of whether they attend a Hyde County School facility. Each day on the Mattamuskeet side, between 10:30 am and 1:00 pm, our Yellow School Buses will be delivering lunch for that day and breakfast for the following morning to all students on the mainland. On Ocracoke, lunches for today and breakfast for the following morning will be provided each day to be picked up in the NCCAT Dining Room based on the schedule established by Principal Leslie Cole. Last Tuesday, Mattamuskeet served 369 meals. This was an incredible accomplishment considering the entire Mattamuskeet Campus has a population of 397 students. Last Wednesday, Mattamuskeet delivered 380 meals with Ocracoke started their program serving an additional 37 meals. I just wanted to thank all of our staff, including Transportation Director Mrs. Tammy Sadler, for working so hard to make this program such an incredible success. Thank you to everyone for continuing to do what is best for students! Stephen Basnight


Prepare for college night!! All info will be shared in English and Spanish. A group from Chapel Hill is leading this info session. Tuesday March 10 NCCAT 6pm.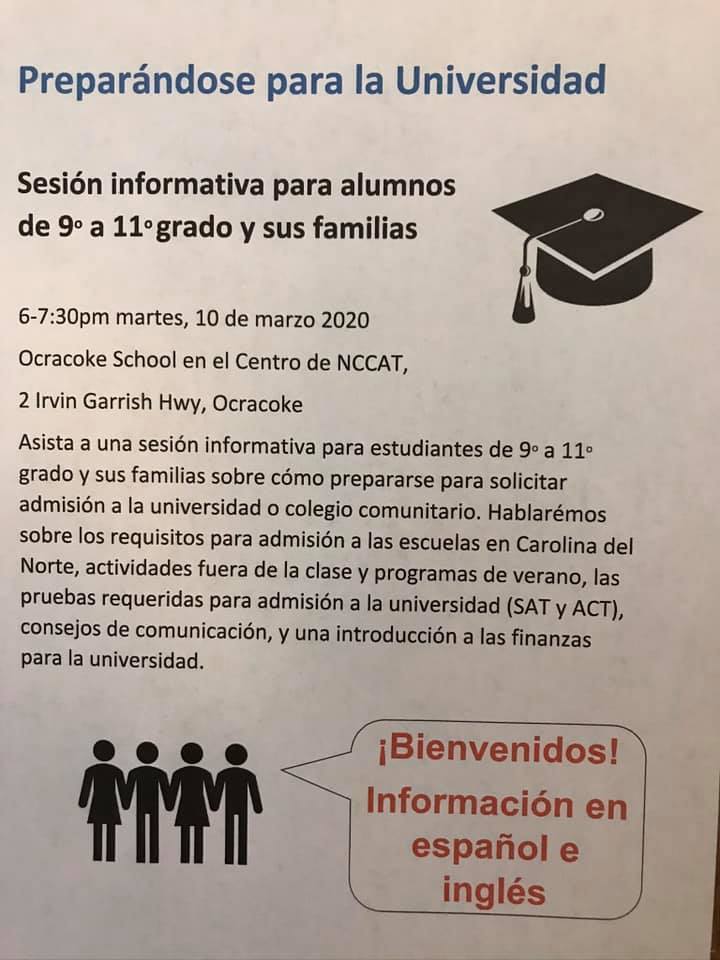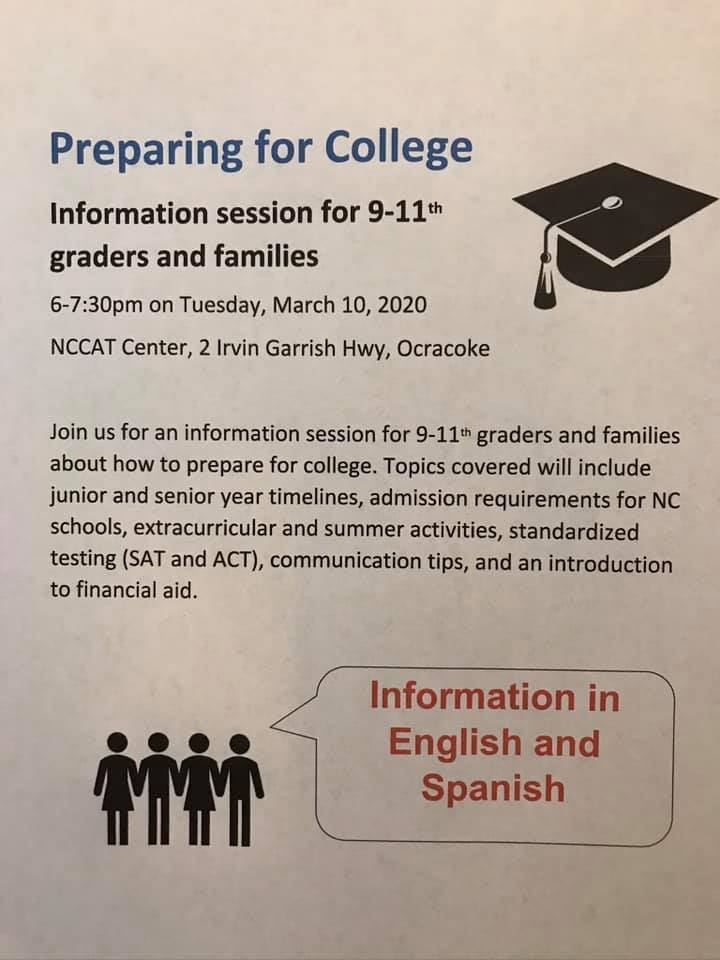 Mr Basnight will be hosting a Parent/ Community Information Night regarding the most recent information on Ocracoke School and funding. Please come to either meeting at the NCCAT seminar room Thursday, March 5 -the first will be at 5pm and the other will be at 6:30. Same information will be shared at both meetings. We want to be sure everyone has an opportunity to come! Thank you!
Our School System is committed to providing resources to all students and families to ensure emotional well-being, healthy living, and wellness in all aspects of one's life. Thus, Hyde County Schools is pleased to inform our community of a partnership with Integrated Family Services that provides a Crisis CHAT line that is available for all staff, students, parents, family, and friends that will offer online emotional support 24 hours a day. Trained chat specialists are available to assist individuals who are depressed, going through a hard time, dealing with a crisis, need to talk, or having thoughts of hurting themselves. Any life issues may be discussed utilizing the Crisis CHAT line. The goal of Integrated Family Services' Crisis CHAT line is to help you and others reduce stress and feel empowered to make healthy decisions. To utilize this free service, simply go to
www.integratedfamilyservices.net
and click the "chat with us" icon at the top of the page.