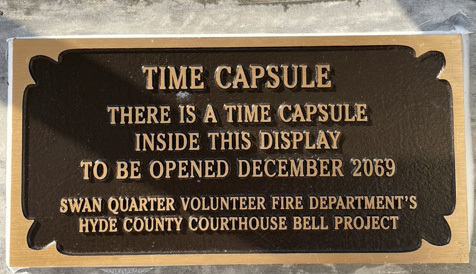 The Swan Quarter VFD has just completed the Hyde County Courthouse Bell Project that was begun in 2018. The old cast iron bell that was made in 1920 originally hung on a pole from a second-floor wooden landing outside the jury room of the old courthouse. The project consisted of building a permanent display that would include a time capsule to be opened in 2069.
Sandy Carawan's 8th grade class was asked to participate by providing written answers to two questions: (1) What one item do you have now that you think may be still around in 50 years and why do you think that? and (2) What new invention do you think might be available in 50 years? Describe what it is, how it might work, who will the target audience be, etc.
The answers, some glib and some serious, along with drawings, doodles, personal information, and many thought-provoking comments were received from twenty-four students. Along with many other items collected from across Hyde County, they were placed in a large capsule and are now sealed in the bell display. A pretty bronze plaque marks the spot!
The SQVFD is counting on these youth - who will be in their sixties in 2069 - to remove the capsule, unseal it and remember what they were doing fifty years earlier.
Thanks to Ms. Carawan and the students who participated! We invite everyone to visit the bell display located between the old and new courthouses in Swan Quarter.