Hyde County Schools Reopening
Julio Morales
Wednesday, July 01, 2020
UPDATE #04: July 27, 2020
(ENGLISH)
Planning for Reopening Hyde County Schools - Community Update #4
On Saturday, July 25, 2020, the Hyde County Board of Education met at 10:00 am in a Special Called meeting in the Board Meeting Room at the O. A. Peay Administrative Offices in Swan Quarter. At this meeting the Board decided that Hyde County School would open the 2020-2021 school year this fall under Plan C-Fully Remote by a unanimous vote. The following is a list of some of the information that was reviewed by the Board of Education in making this decision:
| | |
| --- | --- |
| Recently Updated CDC Recommendations for Opening Schools | Guidelines from the North Carolina Department of Public Instruction's "Lighting Our Way Forward" Document |
| Guidelines from the North Carolina Department of Health and Human Services | Data from the Hyde County Schools' Parent Survey |
| Data from two Hyde County Schools' Staff Surveys | N. C. General Assembly Required Remote Learning Plan |
| Hyde County Schools' Plan B - Blended Learning Plan (consisting of In Person and Remote Learning) | Hyde County Schools' Home WiFi/Internet Access Project for Students and Staff |
| Required/Recommended Personal Protective Equipment (PPE) and Hyde County Schools' Cost Projections | Changes in Schools to Maintain Student and Staff Health and Safety |
| Current Maps of North Carolina and the Northeast RESA Showing Districts/Public School Units(PSU) Plan Decisions | Information Provided by the Hyde County Health Department on Reopening Schools |
This meeting was broadcast on Facebook Live and, if anyone is interested, the three-hour recording can be viewed on the Hyde County Schools Facebook page. We will also provide a link on our website (https://www.facebook.com/watch...)
Principals from each school will be making contact with their students and parents to communicate their plans for opening school and distributing Chromebooks and devices for remote learning.
As always, thank you all for your support and assistance in making this upcoming year a success. We can do this, but it is going to take us all working together and learning new and better ways of getting it done. Change can sometimes be uncomfortable and I would not begin to tell you all of this will be easy, but together we will find a way and we will continue to focus what we do on "doing what is best for our students!"
Sincerely,
Steve Basnight, Superintendent
Hyde County Schools
(SPANISH)
Planificación para Reapertura de las Escuelas del Condado de Hyde – Novedad para la Comunidad #4
El sábado 25 de julio del 2020, la Junta Educativa de las Escuelas del Condado de Hyde realizo una reunión especial en la sala de juntas en las oficinas administrativas O.A. Peay a las 10:00AM en Swan Quarter. En esta reunión, la junta decidió por voto unánime que las Escuelas del Condado de Hyde iniciarían el año escolar 2020-2021 bajo el Plan C – Instrucción Remota en su totalidad. La siguiente es una lista de alguna de las informaciones discutidas por la Junta Educativa que los llevo a tomar esta decisión:
| | |
| --- | --- |
| Recomendaciones Actualizadas Recientemente de la Organización CDC para la Reapertura de las Escuelas | Lineamientos del Documento del Departamento de Instrucción Pública de Carolina del Norte "Iluminando Nuestro Camino a Seguir" |
| Lineamientos del Departamento de Salud y Recursos Humanos | Resultados de la Encuesta para Padres de las Escuelas del Condado de Hyde |
| Resultados de Dos Encuestas para el Personal de las Escuelas del Condado de Hyde | Plan de Aprendizaje Remoto Requerido por la Asamblea General de Carolina del Norte |
| Plan de Aprendizaje Mezclado – Plan B – de las Escuelas del Condado de Hyde (Combinación de Aprendizaje en Persona y Remoto) | Proyecto de WIFI/Internet para los Estudiantes y Personal de las Escuelas del Condado de Hyde |
| Proyecciones del Costo para las Escuelas del Condado de Hyde y el Equipo de Protección Personal (PPE) recomendado/requerido | Cambios en las Escuela para Proteger la Salud y la Seguridad de los Estudiantes y el Personal |
| Mapas Actuales de las Decisiones de Reapertura Tomadas por Otros Distritos Escolares en Carolina del Norte y en Nuestra Zona RESA Noreste | Información Provista por el Departamento de Salud de Condado de Hyde sobre la Reapertura de las Escuelas |
Esta reunión fue transmitida en vivo a través de la página en Facebook Hyde County Schools con Facebook Live y si está interesado, usted puede ver ese video de tres horas en esa misma página a su conveniencia. De igual manera, facilitaremos un vínculo a ese video en nuestra página web https://www.facebook.com/watch...).
Los directores de cada escuela realizaran contactos con los estudiantes y padres para comunicar más detalles de sus planes para la reapertura de las Escuelas y la distribución de Chromebooks y equipos necesarios para la instrucción remota.
Como siempre, gracias por todo su apoyo y ayuda para hacer este año escolar que se inicia un ano exitoso. Estamos seguros de que lograremos nuestra meta pero va a tomar el esfuerzo y el trabajo conjunto de todos nosotros y aprendiendo nuevas y mejores maneras de lograr nuestro objetivo. Cambios son a veces incomodos y no pretende decirles que todo esto será fácil, pero juntos encontraremos la manera y continuaremos enfocando nuestros esfuerzos para "hacer lo mejor para nuestros estudiantes".
Sinceramente,
Steve Basnight, Superintendente
Escuelas del Condado de Hyde
UPDATE #03: July 15, 2020
(ENGLISH)

Planning for Reopening Hyde County Schools - Community Update #3
On Tuesday afternoon, Governor Roy Cooper announced that North Carolina schools would reopen on August 17th under Plan B, described as a "Blended or Hybrid-model" combining face-to-face and remote learning. Plan B will also require social distancing, face coverings for all staff and students K-12, and increased safety, and health precautions.
Our planning all along has been for our teachers to develop lessons for teaching in a remote environment, like in Plan B or C. We felt that lessons that were developed to be taught remotely could easily be taught face-to-face in a classroom with the teacher present. In other words, having students present in a classroom with their teacher, doing a remote lesson together, would be an added bonus. As we all learned this spring, lessons that are made to be taught face-to-face are very difficult to teach remotely without a lot of parent involvement and oversight. Our goal for any remote instruction this fall, will be to provide face-to-face time with a teacher, multiple times per week, so that parents are not put in the position of trying to become the teacher. Hyde County Schools will also provide families the option of choosing to have remote learning classes for their students, if they are not comfortable returning to full face-to-face classes just yet.
We have also determined that based on individual classrooms at 50% capacity, we could have all of our students effectively socially distanced throughout all of our schools. In Governor Cooper's announcement, he removed the requirement of 50% of building capacity and is requiring that social distancing be maintained. Under either requirement, we can effectively have all of our students attend school under either Plan A or Plan B. To do this, we will have to address the number of students on our buses, no large gatherings around campus(gyms or assemblies), staggered class dismissal and lunch schedules, reduce cafeteria use, have some meals served in classrooms, promote frequent handwashing, and use of hand sanitizer.
Plan B also requires that all staff and students (K-12) wear a cloth face covering unless that person has a medical condition that prevents it. The Governor's office will be providing each student and staff member with 5 reusable face coverings. The intent behind wearing a face covering is to protect the other students around an individual and to protect the teachers, staff members, and other adults working in our buildings. As we have previously stated, our priority is to provide the greatest degree of health and safety for all of our students and staff members. This is another way that we can all show our support for the educators in our schools who are working tirelessly to do what is best for our students!
Finally, we have received notification from the N. C. High School Athletic Association, the governing body for high school sports, stating, "The start of NCHSAA fall sports is delayed until at least September 1.
Today, we are posting a Parent and Community Survey on our social media, school, and district websites. Please take the time to fill it out and provide us with your thoughts and ideas. Your input really does affect our decision-making! If you would like to review the guidance we are receiving from the State of North Carolina, you can find it at StrongSchoolsNC (K-12) in English and Spanish. We will continue to provide you with regular updates on our plans for school this fall. If you have further questions or comments, please do not hesitate to contact us.
Sincerely,
Steve Basnight, Superintendent
Hyde County Schools
UPDATE #03: July 15, 2020
(SPANISH)
Plan de Reapertura de Escuelas del Condado de Hyde – Novedad para la Comunidad #3
El martes en la tarde, El Gobernador Roy Cooper anuncio que las Escuelas de Carolina de Norte reiniciaran sus actividades el 17 de agosto bajo el Plan B, descrito como el "Modelo Hibrido o Mezclado", que combina el aprendizaje remoto y también presencial. Este Plan B de igual manera requerirá el Distanciamiento Social, uso de Mascaras Protectoras para todo el personal y estudiantes desde Kínder al Doceavo Grado, y también un nivel mayor de seguridad y precauciones de salud.
Nuestro plan inicial siempre ha sido el que los docentes desarrollen lecciones de clase para poder ensenar en una ambiente remoto o virtual, como se especifica en los Planes B o C. Nosotros consideramos que si las lecciones de clase son inicialmente diseñadas para ser impartidas de manera remota, las mismas podrían fácilmente ensenarse en un salón de clase con el docente y los estudiantes presentes. En otras palabras, el tener a los estudiantes presentes en el salón de clase con su maestro, ensenando una lección diseñada para un ambiente virtual o remoto, sería un bono adicional. Como todos aprendimos con la experiencia del semestre de verano pasado, es muy difícil ensenar lecciones de clase de manera virtual o remota cuando las mismas fueron originalmente diseñadas para ser impartidas en un salón de clases con todos presentes sin depender de mucha supervisión o ayuda por parte de los padres. Nuestra meta para cualquier instrucción remota este otoño será la de ofrecer tiempo presencial en el salón de clase con los maestros, varias veces a la semana, para que así los padres no estén en la difícil posición de intentar ser el maestro en la casa. Las Escuelas del Condado de Hyde también proveerán a todas las familias la opción de únicamente recibir instrucción virtual o remota para sus hijos si todavía no se sienten cómodos que sus hijos se reintegren a clases en los campos escolares.
También hemos determinado de que basados en la directiva o lineamiento por parte del estado de tener los salones de clases a 50% de capacidad, nosotros podríamos tener a todos los estudiantes distanciados socialmente de manera efectiva en todas nuestras escuelas. En el anuncio del Gobernador Cooper, el ordeno la eliminación del requerimiento de tener las escuelas a 50% de capacidad pero está requiriendo que se mantenga el distanciamiento social. Bajo cualquiera de estos requisitos, nosotros podemos tener a todos los estudiantes en la escuela efectivamente bajo al Plan A o B. Para poder hacer esto, tendremos que modificar el número de estudiantes en los buses, no se permitirán reuniones masivas en los campos escolares (gimnasios o asambleas), diferentes horas para la culminación de las clases y horario de almuerzos, reducir el uso de la cafetería, tener algunas comidas en el salón de clase, promover el lavado de manos frecuente y el uso de gel antiséptico.
El Plan B también requiere que todos los estudiantes (K-12) y el personal de la escuela usen mascaras protectoras a menos que esa persona tenga una condición médica que no le permita cubrir su boca y nariz. La Oficina del Gobernador proveerá a cada estudiante y personal de la escuela 5 mascaras protectoras reusables. La intención de cubrirse la boca y nariz con esta mascara es la de proteger a otros estudiantes que estén cerca de esta persona y de otros adultos que estén trabajando en los campos escolares. Como ya lo hemos indicado anteriormente, nuestra prioridad es la de proveer el mayor grado de salud y seguridad para todos nuestros estudiantes como también al personal de las escuelas. Esta es otra manera en la que podemos mostrar que apoyamos a nuestros educadores en nuestras escuelas quienes están trabajando arduamente para dar lo mejor a todos los estudiantes.
Finalmente, hemos recibido una notificación de la Asociación Atlética de Escuelas Secundarias de Carolina del Norte, la entidad que gobierna los deportes escolares, la cual indica que "el inicio de todos los deportes de otoño de la NCHSSA ha sido retrasado para por lo menos el 1ro de septiembre.
El día de hoy, esperamos poder publicar una Encuesta para Padres y la Comunidad en nuestras páginas sociales y páginas web de las escuelas y distrito escolar. Por favor, tómese el tiempo de llenarla para que nos de sus ideas y opiniones. Su opinión realmente afecta nuestro proceso de toma de decisiones. Si le gustaría revisar todos los lineamientos que estamos recibiendo por parte del Estado de Carolina del Norte, usted puede revisar dicha información en la página web StrongSchoolsNC (K-12) en inglés como también en español. Nosotros continuaremos dándoles novedades de nuestros planes para la reapertura de las Escuelas este otoño. Si tiene preguntas adicionales o comentarios, por favor no dude en contactarnos.
Sinceramente,
Steve Basnight, Superintendente
Escuelas del Condado de Hyde
UPDATE #02: July 11, 2020

(ENGLISH)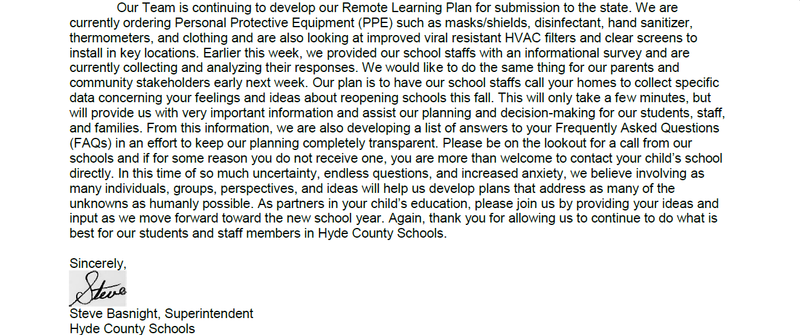 (SPANISH)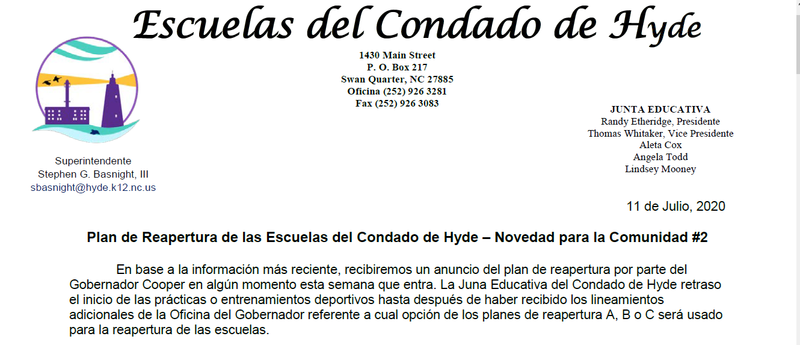 UPDATE #01: July 1st, 2020