COVID-19
Julio Morales
Friday, March 13, 2020
COVID-19 (CORONAVIRUS)
INFORMATION/RESOURCE CENTER
-----------------------------------------------------------------------------------------------_________________________________________________________
CENTER FOR DISEASE CONTROL (CDC)
NORTH CAROLINA DEPARTMENT OF HEALTH AND HUMAN RESOURCES
NORTH CAROLINA DEPARTMENT OF PUBLIC INSTRUCTION
SCHOOL SYSTEM POSTINGS
(CHRONOLOGICAL ORDER FROM MOST RECENT)
MAY 15 2020
(ENGLISH VERSION)
Dear Parent/Guardian of a Hyde County School Student,
We are sending out this information regarding the Pandemic Electronic Benefit Transfer (P-EBT) Program.
The North Carolina Department of Public Instruction (NCDPI) has notified us that all Hyde County Public School students will be eligible for the Pandemic Electronic Benefit Transfer Program. The P-EBT Program is administered by the NC Department of Health and Human Services (NCDHHS).
The NCDHHS, working in collaboration with the NCDPI, requested activation of the Pandemic Electronic Benefits program (P-EBT) program for North Carolina families to use during school closures. The P-EBT program provides a benefit on an EBT card to North Carolina families whose children have access to free and reduced lunch at school. The P-EBT card will function like a standard EBT card, and the same guidelines will apply.
There is no application needed for P-EBT benefits.
Families will receive benefits by the following methods:
P-EBT benefits for P-EBT families already receiving Food and Nutrition Services (FNS) benefits will be issued mid-May.
P-EBT eligible families who are not already receiving FNS benefits will receive an EBT card in the mail in mid to late May, as long as their mailing address on file with their school is up to date. These families will first receive a letter from NCDHHS in the mail explaining how to activate and use their card.
Per the NCDHHS, P-EBT benefits will be staggered when released to take into consideration supply chain needs and other Food and Nutrition (FNS) benefits. The second issuance is expected to happen during the first two weeks of June 2020.
Families will receive approximately $371 in total P-EBT benefits per child, provided over two installments. The first allotment accounts for closed school days in March and April 2020. The second allotment accounts for closed school days, May 1 – June 12th, 2020.
There is no cost to the recipient as the P-EBT benefit is entirely federally funded. The State does not provide any of the cost of P-EBT benefits but does incur some modest costs to operationalize the program.
Families who receive P-EBT benefits will not have to pay back the benefits.
Although, we are pleased to forward the information regarding this program to our students and to their families, this is not a school-based program. If you should have any further questions, you can contact Hyde County Department of Social Services at (252) 926-4476.
Sincerely,
Stephen Basnight, III
Superintendent
Hyde County Schools
(VERSION EN ESPANOL)
Estimado Padre / Representante de un Estudiante del Condado de Hyde,
Estamos enviando información sobre el Programa de Transferencia de Beneficios Electrónicos por la Pandemia (P-EBT).
El Departamento de Instrucción Publica de Carolina del Norte (NCDPI) nos ha notificado que todos los estudiantes del Sistema Escolar del Condado de Hyde califican para el Programa de Transferencia de Beneficios Electrónicos por la Pandemia. El Programa P-EBT es administrado por el Departamento de Salud y Servicios Humanos de NC (NCDHHS).
La agencia NCDHHS, trabajando en conjunto con el NCDPI, pidieron la activación del Programa de Beneficios Electrónicos por la Pandemia (P-EBT) para ser usadas por las familias de Carolina del Norte durante el tiempo de cierre obligatorio de las escuelas. El Programa P-EBT ofrece un beneficio en una tarjeta EBT a las familias de Carolina del Norte cuyos hijos tienen acceso a comidas gratis o a precios reducidos en la escuela. La tarjeta P-EBT funcionara como una tarjeta estándar EBT, y los mismos lineamientos para su uso serán aplicados. No es necesario llenar un formulario para los beneficios del Programa P-EBT.
Las familias recibirán los beneficios de la siguiente manera:
Los beneficios P-EBT para las familias que ya han recibido los Beneficios de Servicios de Nutrición y de Alimentos (FNS) recibirán esta ayuda a mediados del mes de mayo.
Las familias que califican para el programa P-EBT quienes no estén recibiendo los beneficios FNS recibirán una tarjeta en el correo postal a mediados o a finales del mes de mayo, asumiendo que su dirección de domicilio en los registros de su escuela estén actualizados. Estas familias primero recibirán una carta del NCDHHS por correo postal explicándoles como activar y usar esta tarjeta.
Siguiendo las directivas del NCDHHS, los beneficios P-EBT serán ofrecidos de manera escalonada cuando sean emitidos para tomar en consideración las necesidades de la cadena de suministro y otros beneficios de Nutrición y Alimento (FNS). Se espera que la segunda emisión de estos beneficios ocurra durante las primeras dos semanas del mes de junio 2020.
Las familias recibirán un total de $371 dólares aproximadamente en beneficios P-EBT por cada niño, provistos en dos pagos. La primera remesa cubre los días de escuelas cerradas en marzo y abril 2020. La segunda remesa cubre los días de escuelas cerradas desde el primero de mayo hasta el 12 de junio 2020.
Este servicio no tiene ningún costo para el beneficiario ya que este beneficio P-EBT está completamente financiado federalmente. El Estado de Carolina del Norte no provee ningún costo de los beneficios P-EBT pero si incurre en costos modestos para operar el programa.
Las familias que reciban beneficios P-EBT no tendrán ninguna responsabilidad de reembolsar los beneficios.
Aunque estemos muy complacidos de transmitirles esta información con respecto a este programa a nuestros estudiantes y a sus familias, este no es un programa administrado por la escuela. Si tiene preguntas adicionales, puede contactar al Departamento de Servicios Sociales del Condado de Hyde al número telefónico (252) 926-4476.
Sinceramente,
Stephen Basnight, III
Superintendente
Escuelas del Condado de Hyde
APRIL 24TH, 2020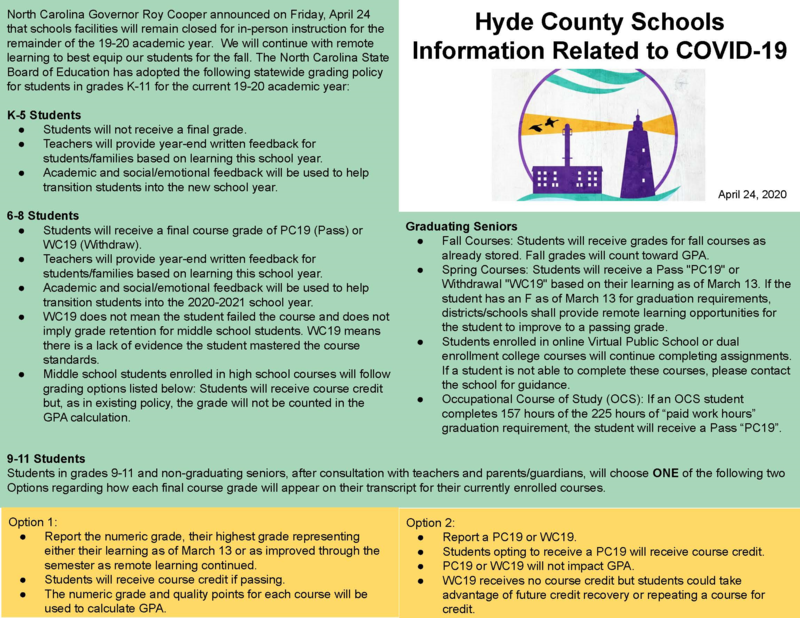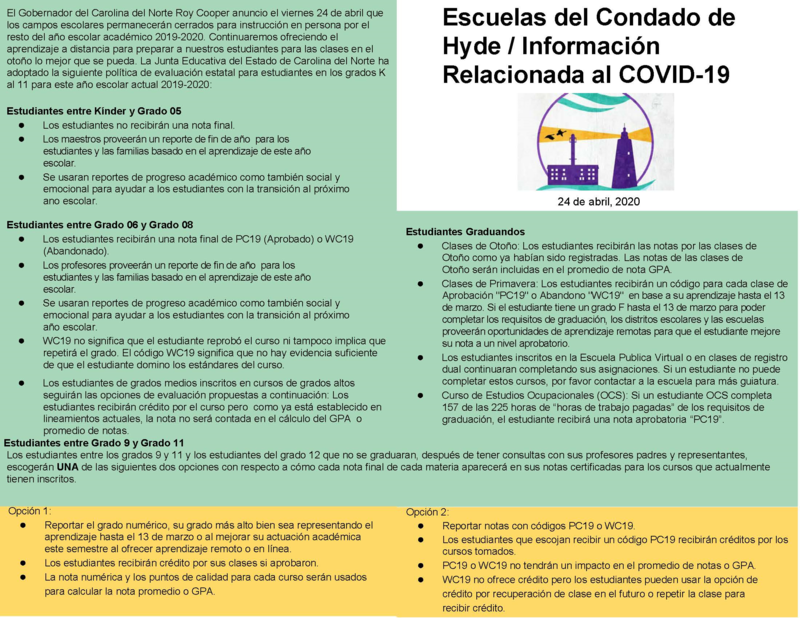 APRIL 22ND, 2020
Our district feels very blessed to be 1 of only 7 counties in NC not have a confirmed case of COVID-19 so far. What we are doing is working! Thank you for all your support! With that in mind, there have been additional guidelines set up by the state to increase the level of safety for our staff who are serving as essential personnel delivering meals to your homes.
1. Starting today, we ask that you please setup a table, cooler, container, or box outside your house where the bus stops so the meals may be dropped in or on them and you can get to them after the bus departs.
2. If this is not feasible, we ask that neither parents nor students board the school bus for any reason.
We appreciate your cooperation with these updates and we urge you to continue to follow local and state safety measures to keep all of us in Hyde county safe from this virus.
Thank you and have a great day!
En el distrito escolar nos sentimos muy bendecidos por ser todavía 1 de 7 condados en Carolina del Norte sin un caso confirmado del virus COVID-19 hasta ahora. Lo que estamos haciendo está funcionando. Gracias a todos por su apoyo. Teniendo esto presente, parámetros adicionales han sido establecidos por el estado para incrementar el nivel de protección de nuestro personal escolar quienes han sido designados como personal esencial al repartir la comida a sus hogares.
1. Iniciándose el día de hoy, le pedimos que por favor coloque una mesa, contenedor, caja afuera de su casa en donde el bus escolar se para para que la comida sea depositada o colocada en el mismo y usted pueda recogerlo después que el bus se haya ido.
2. Si esta opción no es posible, le pedimos que ni padres ni estudiantes aborden el bus escolar por ningún motivo.
Apreciamos eternamente su cooperación con esta novedad y le rogamos que continúe cumpliendo con las medidas de protección establecidas por el gobierno local y estatal para que todos en el Condado de Hyde continuemos protegidos de este virus.
Gracias y que tenga un buen día.
APRIL 06TH, 2020
Update on COVID-19 and Hyde County Schools
MARCH 30TH, 2020
Article published by the Coastland Times on the progress of our Schools without Walls.
https://www.thecoastlandtimes.com/2020/03/30/from-in-class-to-online-area-schools-transition-to-new-way-of-learning/?fbclid=IwAR3jGAdXcPTBe3sn4Btibx6pXD7zTazv0lPEKFCWX9WWv2TeEZEkosQ8uKE

MARCH 20TH, 2020
Hello Hyde County School's students, staff, and parents.
We are thrilled to let you know that yesterday our teachers opened our "Schools Without Walls" online learning classrooms for our students. I just wanted to let you know what it looks like for your students.
Our instructional staff has been developing lessons that they can share with our students in an online format. Our goal will be to be able to provide our students learning opportunities during times when, for whatever reasons, our schools may have to close. Many of the lessons will be very similar to what we have already been doing in many of our classrooms this year and follow our basic lesson design.
One new addition to our "Schools Without Walls" plan will the opportunity for our students to speak directly with their teachers through text, email, or video during that teacher's "Office Hour." Office Hours will occur at the same time each day. This will be a two-hour period time when students and parents can meet directly with your child's teacher to ask questions or get help with digital assignments. Some of our teachers have already met with their classes virtually to practice using the technology.
We are all so excited but please understand, we are all stepping into a new environment and there may well be some growing pains, but we'll work through them, together. I absolutely believe, if we continue to make decisions based on the best information possible, have faith and don't doubt, we can do this and so much more. As always we will continue just trying to do what is best for our students!
Thank you,
Stephen Basnight, III
Superintendent
Hyde County Schools
MARCH 18TH, 2020
Hello Hyde County School's students, staff, and parents.
I am so excited to tell everyone about our Breakfast and Lunch meal program in all Hyde County Schools. Governor Roy Cooper has charged school districts with feeding children between the ages of 0-18 years old while schools are closed.
As some of you may know, we have students in Hyde County who attend schools other than Hyde County Public Schools. Hyde County Schools is committed to feeding all children, regardless of whether they attend a Hyde County School facility.
Each day on the Mattamuskeet side, between 10:30 am and 1:00 pm, our Yellow School Buses will be delivering lunch for that day and breakfast for the following morning to all students on the mainland.
On Ocracoke, lunches for today and breakfast for the following morning will be provided each day to be picked up in the NCCAT Dining Room based on the schedule established by Principal Leslie Cole.
On Tuesday, Mattamuskeet served 369 meals. This was an incredible accomplishment considering the entire Mattamuskeet Campus has a population of 397 students. On Wednesday, Mattamuskeet delivered 380 meals with Ocracoke started their program serving an additional 37 meals.
I just wanted to thank all of our staff, including Transportation Director Mrs. Tammy Sadler, for working so hard to make this program such an incredible success. Thank you to everyone for continuing to do what is best for students!
Thank you and
Stephen Basnight, III
Superintendent
Hyde County Schools
MARCH 12TH 2020
To the Students, Staff, and Families of Hyde County Schools:
The Hyde County Schools District Leadership Team met today with Hyde County Health and Emergency Response Officials to formally establish a plan of action related to the most recent developments concerning COVID-19.
We have already taken the following steps to help protect our students and staff in Hyde County Schools. Based on all current data, the number one recommendation is frequent and sustained hand-washing. We are also encouraging our students and staff to stay home if they are sick. Our Administrators have been monitoring attendance data districtwide to be able to respond to increases in absenteeism. We have also ordered two electrostatic disinfectant sprayer systems designed to kill a series of viruses, including COVID-19.
From my notification yesterday, the N. C. High School Athletic Association has suspended all interscholastic athletics effective at 11:59 pm tonight, Friday, March 13th through April 6, 2020. This includes skill sessions, workouts, practices, and contests of any kind.
As of 3:30 pm this afternoon, the North Carolina Governor Roy Cooper is not recommending the closing of schools. Also, as of this morning's meeting, there are no confirmed cases of COVID-19 in Hyde County.
Based on recommendations from Governor Roy Cooper, the Centers for Disease Control, State and Local Health Department Officials, and the Hyde County Schools District Leadership Team, Hyde County Schools is enacting the following mandates effective at 11:59 pm tonight:
Hyde County Schools will eliminate all non-essential out of district travel for students and staff.
Hyde County Schools has canceled all school field trips through April 6, 2020.
Hyde County Schools will no longer hold school assemblies or large group gatherings and will practice social distancing to the highest degree possible.
Hyde County Schools will limit visitor access to schools. Visitors, including parents or guardians, will not be allowed access to cafeterias, hallways, restrooms, or other areas of the school buildings other than the front office.
All of these protocols will be in place from 11:59 pm tonight, Friday, March 13, 2020 at least through Monday, April 6th. Hyde County Schools District Leadership will be monitoring developments and recommendations from all official sources and may extend the above restrictions beyond April 6th, where appropriate.
In our District Meeting today, Hyde County Schools Leadership developed a "Virtual Learning Plan" for each of our district schools. Building Principals will be sharing this information and holding meetings with their staffs to address putting this plan in action in each of their schools as quickly as possible.
The Parent Meeting concerning the Mattamuskeet Elementary School calendar for next year, Fall and Spring 2020-2021, scheduled for Monday afternoon at MES has been canceled. More information and opportunities to gain your feedback will be forthcoming.
We will continue to update our students, staff, and families as any new information becomes available.
Sincerely,
Stephen Basnight, III
Superintendent
Hyde County Schools